Welcome to:
Pinnacle Creek ATV Campground
Your Gateway to the Trails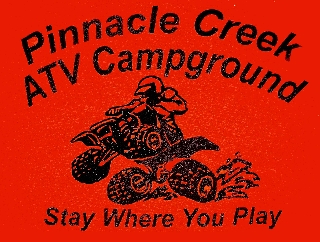 Campground Map is NOW online!!!

" Stay Where You Play"
Reservations: 1-866-694-8334

Please leave us a message. We will return your call.
May take up to 4 rings for answering machine.

Campground: (304)-294-5929

Catch US on Facebook

Summer Time Riding...Yeah





Please help keep the trails litter free.
ATV RIDING AT ITS BEST!!!!!
Miles of Hills and Mountains Trails
Through WILD and Wonderful West Virginia.

VISA & MASTERCARD ARE ACCEPTED.



US
Directions



Pricing






Photos



Captain Jack's ATV Guide
Service!

New to the trails?
Captain Jack can take you to the sights...Visit the goldfish pond, the playground, train tracks, and the Welch Diner.

Call (304)-294-5929 for details.

(Not in Affiliation with PinnaclecreekATVCampground)



Home | Pricing | Directions | Photos